GOLF BIBLIOGRAPHY - QUOTES, TRIVIA, & OTHER GOLF MISCELLANY


Prepared by Lawrence Martin
Return to Lakeside Press
Click here for Old, Scarce and Rare Golf Books
Why Are You STILL a Hacker? - 9 Steps to Escape Hacker-dom

---


The Everything Golf Book; Essential rules, useful tips, amusing by Richard Mintzer and Peter Grossman
The title is fairly explanatory. Sections include Golf History, Abridge Official Rules, Golf Etiquette, Golf Equipment, Playing the Game, and lists of courses, schools, tours, tournaments, etc. etc. An interesting book to thumb through.

Chicken Soup for the Golfer's Soul: 101 Stories of Insights, Inspiration and Laughter on the Links, edited by Jack Canfield
Some of the stories and anecdotes are good, some are corny, but overall the book is entertaining. An excellent gift for the golfer in your life.

And Then Jack Said to Arnie...' -- a Collection of the Greatest True Golf Stories of All Time, by Don Wade; Forward by Lee Trevino
One of several such books of stories, anecdotes and other reminiscences of the game. Like popcorn, hard to put down.

Golf's Most Outrageous Quotes: An Official Bad Golfers Association Book. By Bruce M. Nash, Allan Zullo, Bill Hartigan, and Pat Oliphant (Illustrator)
Example, from Arnold Palmer: "I have an easy way to take five strokes off your score. Use an Eraser."

Bad Golf My Way, by Leslie Nielsen and Henry Beard
A paroldy of Jack Nicklaus's Golf My Way.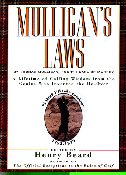 Mulligan's Laws: A Lifetime of Golfing Wisdom from the Genius Who Invented the Do-Over , by Henry Beard (Editor), Thomas Mulligan


The Official Exceptions to the Rules of Golf, Centennial Edition, by Henry Beard and John Boswell
"A bible for the sensible golfer who doesn't have time to lose."
---
FICTION
GENERAL NONFICTION
INSTRUCTION
PERSONAL ACCOUNTS: TRIALS AND TRAVAILS
TRIVIA, QUOTE BOOKS, AND OTHER GOLF MISCELLANY
Why Are You STILL a Hacker? - 9 Steps to Escape Hacker-dom
e-mail to Lawrence Martin Return to Lakeside Press