---
---
We Can't Kill Your Mother! & Other Stories of Intensive Care. Medical and Ethical
Challenges in the ICU. Now at Amazon.com in print format (left) and Kindle e-edition (right).
10 Common Misconceptions & Errors in Treating Asthma
These 10 common misconceptions & errors in treating asthma are based on many years' experience taking care of adult asthma patients. Note that this list of misconceptions & errors applies to patients and doctors.
---
1. Thinking a written prescription for an asthma inhaler means the patient knows how to use it: The device itself.
There are many different kinds of asthma inhalers on the market. (Many of these inhalers are also prescribed for COPD, or chronic obstructive pulmonary disease; see yellow box below).
It is a mistake to write a prescription for an inhaler unless the patient already knows how to use it or is given a demonstration. None of the inhalers is intuitive as to how to use, in contrast to a pill or tablet which must merely be swallowed to be effective. For each inhaler, the patient must make some maneuver which, if not done correctly, means the medication is not inhaled properly or in sufficient amount. Mis-use of inhalers is a major and well-documented problem that occurs across the entire spectrum of patients. The problem stems from the plethora of inhaler types (lack of standardization), their inherent complexity (relative to swallowing a pill), and lack of training about how to use them among both caregivers and their patients.
If there was just one or two types of inhaler, health care providers (and by extension, their patients) would become very famililar with them and there would be less confusion than currently exists. Unfortunately there are many different types of asthma inhalers. The poster above displays only a partial list of inhalers asthma patients may receive.

NOTE: Several of these inhalers are

FDA-approved

for "COPD" (chronic obstructive pulmonary disease) and not, technically, for "asthma." For example,

Spiriva

is approved for COPD (chronic bronchitis and emphysema), and not asthma. Approval is based on the population of patients studied, as required by the FDA.

Generally, "asthmatics" are younger, have never smoked and their lung function returns to normal with maximum treatment. Generally, "COPD patients" are older, have a long smoking history, and their lung function does not return to normal with maximum treatment. However, there is a lot of overlap between "COPD" and "asthma" with many patients having features of both conditions. As a result, patients with chronic or difficult asthma -- who may never have been labeled as having "COPD" -- are often prescribed medications approved only for COPD. It is up to the physician to decide what medication is best for his/her patient.

Inhalers can be broadly classified into three groups:
Pressurized metered dose inhalers (pMDIs)
Dry powder inhalers (DPIs)
Propellant "soft mist" inhalers.
These three groups are described below, starting with pMDIs.
---
PRESSURIZED METERED DOSE INHALERS (pMDIs)
By pressing the cannister down into its plastic housing, pMDIs deliver (under pressure) a spray of medication from the mouthpiece. You can spray the medication into the air and see it as a fine mist, but of course the mist is supposed to be inhaled by the patient, whose mouth should be on on the plastic mouthpiece at the time of delivery (see picture below). The patient must inhale deeply and at the right time in order to get all of the medication delivered into the lungs.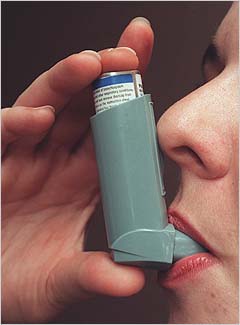 pMDIs are the most common type of inhaler in the US; most of the inhalers shown on the poster above are pMDIs. Short acting bronchodilators are typically delivered via MDIs. To use this device you must inhale immediately after pressing the canister down into the plastic housing, as shown. This maneuver requires some coordination: squeezing the fingers together while making a deep inhalation with the device held tightly between your lips. Some people do it well, but many others exhale when they press down on the canister, so the medication doesn't enter the lungs.

Click here for information on how to use the pMDI
What about spacers for metered dose inhalers?
Spacers have long been used with pMDIs to make it easier for patients to inhale the medication. Another name for spacers is aerosol-holding chambers. Two examples are shown below: a rigid plastic spacer on the left and a collapsible spacer. The pMDI inserts in one part of the spacer and the patient inhales from a chamber that holds the medication. When the pMDI is compressed the medication aerosol enters the spacer and the patient can breathe normally via a mouthpiece without the need to closely coordinate inspiration with medication release. There are many different types of spacers available.
Pros: Spacers makes it easier to inhale the medication, helping assure that it enters the lungs and not the room environment or just the back of the throat. The Asthma Society of Canada recommends that anyone using a puffer consider a spacer.

Cons: They are bulky to carry around, and often not availble when needed (women can put them in a purse; not so for men). The aerosol medication can adhere to the chamber wall, lessening the amount available for treatment. Spacers need to be cleaned or replaced, adding expense to treatment regimen.

Bottom Line: If the pMDI is used as intended, there should be no need for a spacer. They seem to be most useful for children needing a pMDI. Only a small minority of adults regularly use a spacer with their pMDI.
---
DRY POWDERED INHALERS (DPIs)
With DPIs the patient's breath (rather than hand action) actuates delivery of the medication. You cannot see the spray because the only way to get the medication is to inhale it from the mouthpiece. Within the DPI category, there are two broad types:

DPI Type 1): the medication is contained within the inhaler device at all times, until inhaled, or

DPI Type 2): the medication comes in a separate capsule that must be placed into the inhaler device at the time of use.

One study that received wide publicity showed that up to 1/3 of patients use DPIs incorrectly. The error rate increased with patient's age, and correlated with lack of instruction to the patient. DPI Type 1. Medication is contained within the device

Turbuhaler (also known as Flexhaler). Several medications are delivered via the tubuhaler, including the steroid Pulmicort (shown below; the manufacturer, Astra Zeneca calls their device a "Flexhaler," just another name for turbuhaler). The turbuhaler requires you to twist the dark cap shown at the bottom in order to activate the next inhalation. The turbuhaler (flexhaler) eliminates the type of coordinated effort needed for traditional MDIs, since once activated all you have to do is inhale from the mouthpiece. However, the bottom cap can twist both right and left, and it's not obvious which way activates the flexhaler. Thus some patients twist it so as to close the chamber, preventing delivery of medication when they inhale. For instructions on how to use the turbuhaler/flexhaler, see:
National Jewish Hospitals web site
Asthma Society of Canada web site