BREATHE EASY

Patterns of Lung Disease

WHAT ARE THE PATTERNS OF RESPIRATORY DISEASE?

Doctors often speak of many lung diseases as representing one of two patterns of breathing: restrictive or obstructive. These terms refer only to how a respiratory problem affects a patient's breathing pattern; they say nothing about cause, treatment, X­ray appearance, or prognosis of his condition. Furthermore, the two breathing patterns frequently are seen together in one disease. At best they are merely descriptive of many respiratory problems. Despite their limitations, use of the terms "restrictive" and "obstructive" is so pervasive that they will be defined here and used throughout this book.


WHAT IS RESTRICTIVE RESPIRATORY DISEASE?

This is any respiratory condition where the patient is unable to take in a full, deep breath. It can be due to lung, chest cage, or nervous system disease. By analogy imagine a steel hoop placed around your chest so that you can breathe in a little, but not take a full, deep breath. Your breathing is then restricted. The closer the steel hoop comes to your resting breathing level at the end of a normal breath, the less you can inspire and the more severe is the restriction.

Any respiratory condition resulting in inability to expand fully the lungs is a restrictive problem. Once air is inhaled, however, patients with restrictive disorders can exhale without any impediment or obstruction. Hence, the major distinction between restrictive and obstructive lung disease is between difficulty getting all the air in (restrictive) and getting all the air out (obstructive), This difference can be appreciated by measuring the forced vital capacity (Figure 1).

WHAT IS OBSTRUCTIVE LUNG DISEASE?

Asthma, chronic bronchitis, and emphysema are examples of obstructive lung disease. Characteristic of this group is difficulty getting all the air out. As a group obstructive lung diseases are the greatest cause of respiratory morbidity in the United States. Obstructive lung disease is best diagnosed by a simple pulmonary function test of the forced vital capacity (see Section I). As shown in Figure 1, the obstructed patient can take a deep breath but the rate of exhalation is slowed. This is contrasted with a restricted patient, who cannot inhale as much air but can exhale it readily. For comparison the normal FVC curve is also shown.
---
Figure 1. Patterns of respiratory disease as shown by measurement of forced vital capacity.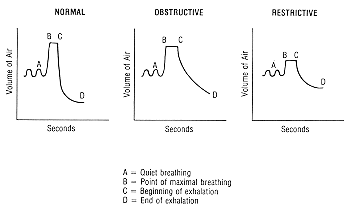 Respiratory diseases and conditions commonly associated with a restrictive breathing pattern are listed in Table 1. Although many of the lung diseases listed here may also be associated with airway obstruction, restriction is usually predominant.

TABLE 1. Respiratory Diseases and Conditions Commonly Associated With a Restrictive Breathing Pattern.
CENTRAL NERVOUS SYSTEM AND CHEST BELLOWS
LUNGS
Polio
Pneumonia
Obesity
Sarcoidosis
Myasthenia gravis
Lung fibrosis
Guillain Barré syndrome
Acute respiratory failure associated with pulmonary edema
Flail chest (multiple broken ribs)
Hyaline membrane disease
Diaphragm paralysis
Advanced lung cancer
Spinal cord disease
Congestive heart failure
Pickwickian syndrome
Pleural effusion and pleural disease

Table 2 lists the most common diseases or conditions that may lead to airway obstruction.



TABLE 2. Diseases or Conditions That May be Associated With Obstruction to Airflow
Lower Airway Obstruction:
Asthma
Chronic bronchitis
Emphysema
Cystic fibrosis
Sarcoidosis
Upper Airway Obstruction:
Croup
Laryngotracheobronchitis
Epiglottitis
Various tumors and foreign bodies that may involve the upper airway
WHAT IS THE DIFFERENCE BETWEEN UPPER AND LOWER AIRWAY OBSTRUCTION?
Asthma, chronic bronchitis, and emphysema are all diseases of the lower airways (bronchial tubes). The trachea, larynx (voice box), and pharynx (area behind the tongue) comprise the upper airway and are not involved in these conditions. Croup,laryngitis, tracheitis, and epiglottitis are infections or inflammations of the upper airway; they may lead to upper airway obstruction. They are more common in children than in adults; also, children are more prone to upper airway obstruction because of the child's smaller airway.
A tumor or foreign body can also obstruct the upper airway. Any patient with upper airway obstruction can present with expiratory wheezing just like asthma, so the distinction is important, Accurate diagnosis of upper airway obstruction can usually be made by a combination of history and physical examination, X­rays of the neck, and spirometry. Stridor (a high­pitched, inspiratory wheeze) is common in upper airway obstruction and is not usually heard with asthma and other forms of lower airway obstruction. (Complete airway obstruction is a medical emergency).
Note that central nervous system and chest wall conditions do not ordinarily lead to an obstructive breathing pattern, whereas they are a common cause of a restrictive pattern. This is because the process of expiration is passive and requires only normal airways once the air has been inhaled. By contrast, the process of inspiration is active, requiring an intact brain control center, chest wall, and lungs. Finally, some diseases, such as sarcoidosis (Section O), can manifest both an obstructive and restrictive pattern.
[Return to Table of Contents]