In particular, the three Atlases are well worth perusing if you have time left over after catergories 1 & 2. Links are to amazon.com. Titles noted as Expert Consult series are also available on-line in a completely searchable format.
----------------------------------
Atlas of Clinical Sleep Medicine, Meir Kryger, editor, Elsevier Saunders, 2014; 2nd edition. This Atlas is chock full of images from sleep medicine, including patient photos, PSG epochs and colored graphs. Dr. Kryger is also the senior editor of Principles and Practice of Sleep Medicine, 5th ed. As with that book, Atlas is also available as a searchable text on-line, via Expert Consult.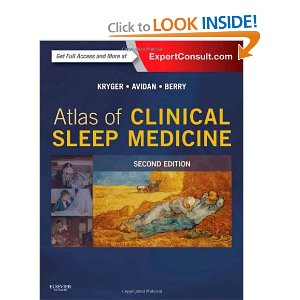 ----------------------------------
Berry's Fundamentals of Sleep Medicine, Richard Berry, Elsevier Saunders, 2011. Expert Consult series. Dr. Berry is also author of the popular Sleep Medicine Pearls, published in 2002.
.

----------------------------------

Principles and Practice of Pediatric Sleep Medicine, 2nd Ed., Stephen H. Sheldon, Meir H. Kryger, Richard Feber, David Gozal. Elsevier Saunders, 2014. Expert Consult series. This book should not be needed for board review, as pediatrics is amply covered in materials listed in the first three sections. However, if you practice pediatric sleep medicine, or plan to, then this book is for you.
.

----------------------------------


The Concise Sleep Medicine Handbook: Essential Knowledge for the Boards & Beyond, David E. Westerman, GSSD Publishers, Atlanta, 2015 (3rd Edition). This self-published book is by a faculty member of the Atlanta School of Sleep Medicine, which offers board review courses (see Category 4). It is aptly named ("Concise") and includes detailed outlines of just about all sleep medicine topics. It is what physicians would probably compile as a study aid for themselves if they had the time. The 3rd edition is updated to include ICSD3 and the latest version of the AASM Scoring Manual. There are also multiple-choice questions for each chapter.
.
----------------------------------
Atlas of Sleep Medicine, by Lois Krahn, Michael Silber and Timothy Morgenthaler. Informa Health Care, 2010.
----------------------------------

Atlas of Clinical Polysomnography, Nic Butkov, RPSGT, 2nd Edition. Synapse Media, 2010.
----------------------------------
Sleep Medicine in Clinical Practice, 2nd Edition, by Michael Silber, Lois E. Krahn and Timothy Morgenthaler. Informa Health Care, 2010.
----------------------------------
Somnology: Learn SLEEP MEDICINE in One Weekend, by Teofilo Lee-Chiong. CreateSpace, 2009.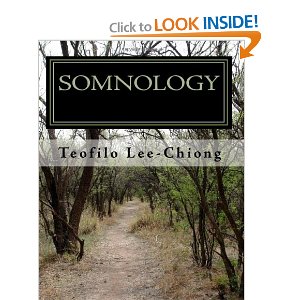 ----------------------------------
Sleep Disorders Medicine, by Sudhansu Chokroverty. Saunders, 2009. Expert Consult series,
----------------------------------
ADDITIONAL BOOKS: 2008 to 2002
Sleep Medicine: Essentials and Review, by Teofilo Lee-Chiong. Oxford University Press, 2008.
Handbook of Sleep Disorders, by Clete Kushida. Informa Health Care, 2008.
Fundamentals of Sleep Technology. Nic Butkov and Teofilo Lee-Chiong, editors. Lippincott Williams & Wilkins, 2007.
Primary Care Sleep Medicine: A Practical Guide, by James F. Pagel and S.R. Pandi-Perumal, editors. Humana Press, 2007. From the review in JAMA (Vol. 198, 2007): "...provides primary care physicians with a suitable introduction to sleep medicine as well as with the basic knowledge reasonably necessary to recognize and treat the most common sleep disorders."
Handbook of Sleep Medicine, by Alon Y. Avidan, Phyllis C. Zee. Lippincott Williams & Wilkins, 2006.
Atlas of Sleep Medicine, by Sudhansu Chokroverty, Robert Thomas & Meeta Bhatt. Butterworth-Heinemann, 2005.
Sleep Medicine Secrets. Damien R. Stevens. Hanley & Belfus, 2004.
Primer of Polysomnogram Interpretation, by Mark Pressman. Butterworth-Heinemann Medical Publishers, 2002.
NON-BOOKS
Sleep Medicine Certification Board Revew offers a comprehensive on line study program consisting of both multiple choice questions and DVD lectures. Clearly its emphasis is on passing the test, hence the web site's title: "The Pass Machine." CME is offered for the lectures. The cost is $1097. The web site states "The Pass Machine is optimized for 24/7 online access from any computer, smartphone or tablet device."
Board Vitals offers board-review questions on all aspects of medicine, including sleep medicine. (Full Disclosure: I wrote many of the questions in the sleep section.) They offer a free trial.
Sleep MultiMedia - SleepMultiMedia describes itself as:
"a comprehensive computerized textbook of sleep medicine with text, sound, graphics, animation and video. This DVD-ROM based multimedia software product contains chapters on polysomnography, the physiology of sleep, chronophysiology, neurophysiology, respiratory physiology, insomnia, obstructive sleep apnea syndrome, pediatrics, narcolepsy, parasomnias, women and sleep, restless legs syndrome, epilepsy and sleep, aging and sleep, hypersomnias, and neurology and sleep; full glossary of sleep terminology; and extensive Medline references and abstracts."
I put Sleep MultiMedia in this lower category because it is very expensive (several hundred dollars), is not web based, contains way more information than you need to study for the exam and, not least, the multiple choice questions after each section are rather simplistic and not particularly relevant to what's on the ABIM board exam. Some of the tables and graphics are quite good and many references are provided that link directly to the internet source, but I can't recommend it for primary board review. It is updated frequently, and is now at edition 9.0. Also, it offers an abundance of CME if that is your goal but, again, don't look to it for board review.