---
Dedication & Disclaimer | Return to Lakeside Press | Reply to author
---
This web site contains the original, full text of Crumbling Dreams, published in 1993. The only change is to the Bibliography, updated and now fully linked to Amazon.com. (The original bibliography is also included, to show how much information was available in the early 1990s about home building & buying.) Paperback copies of both Crooked House and Crumbling Dreams are still listed as available via Amazon.com.

Click here to order Crooked House from Amazon.com

Click here to order Crumbing Dreams from Amazon.com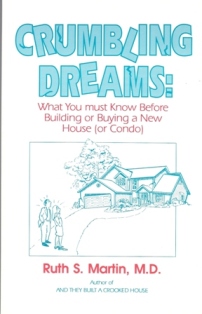 Crumbling Dreams
What You Must Know Before Building or Buying a New House (or Condo)
-- Table of Contents --
Crumbling Dreams: What You Must Know Before Building or Buying a New House (or Condo)
Ruth S. Martin, M.D.
LIBRARY INFORMATION
Copyright © 1993 by Ruth S. Martin


Published by Lakeside Press

All Rights Reserved.
Cover design by Debra Shirley


p. cm.
Includes bibliographical references and index.
Preassigned LCCN: 92-072164
ISBN 1-879653-06-0


1. House buying. 2. House construction. 3. Home ownership. I. Title

TH4817.5.M36 1992 643.12
QBI92-1124
Dedicated:
To new-home buyers everywhere,
especially those who received less than they
paid for
DISCLAIMER
My purpose in writing this book is to help anyone buying, or even contemplating buying, a newly-built home. In doing so I pull no punches but "tell it like it is." What I offer are prudent recommendations and sound advice about how to protect yourself when building or buying a new house or condominium. I disclaim liability for any direct or indirect loss or damage that may result from reading this book. Throughout the book I recommend you hire top flight professionals to help investigate and complete your purchase; in fact, that is the only way that you can come close to being fully protected. No book can substitute for professional, local help. The key is to find the "right" people for your house.
If I have made any factual errors, or misquoted any article or person, please let me know. If any reader disagrees with my opinions or recommendations strongly enough to write, I would like to hear from him or her.


Ruth S. Martin, M.D., Cleveland

Go to Section 1 of Crumbling Dreams | Return to Lakeside Press | Reply to author